A beautiful flower bouquet is an exciting gift that is always in style. The eye-catching flowers can easily make a massive difference in any kind of emotion or special occasion. They come in various vibrant colors and enticing fragrances that will quickly lift your loved one's spirits. Even if you are in a long-distance relationship, sending flowers through Harmony flowers delivery Dubai can help to bridge the gap.
flowers delivery Dubai
As a result, choose a one-of-a-kind bouquet with freshly arranged blooms to spread joy everywhere. The bright appearance of the blossoms cheers them up more than you expected. Continue reading to learn about fantastic flower ideas to wow your loved one.
Beautiful Lilacs – For Your Girlfriend
Lilacs are an excellent choice for the start of a romantic relationship. Furthermore, it has its beauty that will undoubtedly impress her. Choosing such flowers for loved ones demonstrates all of your efforts and thoughts. Aside from that, lilacs represent the specific meaning of love and affection.
Harmony flowers delivery Dubai offers this in a variety of colors to suit your preferences. Pursue this with bouquets that will leave her speechless. You can also send some greeting messages to yourself to create a soulful connection.
For Life Partner- Romantic Red Roses
Is it necessary to introduce the red rose? Most likely not! This flower is well-known not only in specific areas but all over the world. However, you should get the most popular flowers online for your wife. There is no better alternative for this dazzling bloom, whether it is your anniversary or her birthday.
This one's pleasant colors and soothing aroma will make her day more memorable. It will also overwhelm her with the magnitude of the surprise.
Lovely Tulips 
Do you want to confess your perfect love? Then go for the showy tulips! They look fantastic and will help you express yourself more clearly than ever before. This flower represents perfect and deep love. It also comes in a variety of colors such as red, pink, white, purple, and yellow.
Choose the most appropriate one for the message you want to convey. Thus, order from our Harmony flower and send it to their destination via the flowers delivery Dubai service to win their heart.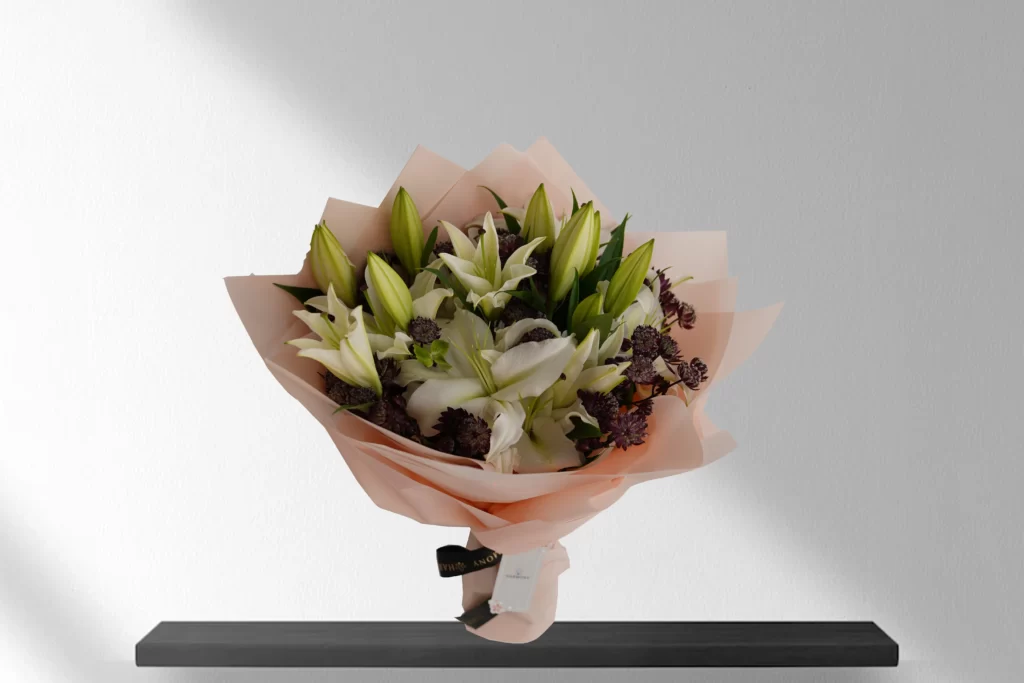 Remember Me – For Best Friends
The meaning of this flower can be deduced from its name alone. Equally important, it is one of the best flowers to give to loved ones to make them happy. Friendship is the most valuable relationship that endures all of life's ups and downs. In this case, using this to show them that you will never forget their presence is simply mesmerizing.
It will also force them to recreate all of the memorable moments you shared. Engaging your loved ones in such activities will add more value to their lives.
Beautiful Carnations
Carnations are also a lovely way to express your feelings. They represent distinction, awe, passion, and affection. It is also available in a variety of vibrant colors such as pink, yellow, white, red, and others.
Purchase a stunning bouquet from a reputable store and have it delivered to their door via a flowers delivery Dubai service. When they look at the bloom, they have a radiant smile on their face. As a result, make sure to choose the one-of-a-kind blossom based on their preferences.
Camellias de Luxe – For Mother
Camellias, with their vibrant colors, resemble roses. Are you estranged from your parents? Don't be sad when you have the option to send flowers online, which adds to the excitement. In the meantime, you should personalize it with bouquets. Because it is the most effective way to express your love than words.
This one represents the meaning of thanksgiving and respect. So, what's keeping you from getting this lovely flower for your mother?
Wonderful Gerbera Daisies
If you're looking for flowers to brighten up a special occasion, gerbera daisies are an excellent choice. They represent fantastic meanings such as purity, innocence, and loyal love, among others. Gerberas have large, vibrant petals that will immediately capture the attention of your loved one.
You can also choose daisies in colors such as yellow, pink, red, lavender, salmon, and others. So, don't forget to choose a bouquet that has the potential to strengthen your bond even more than before.
Beautiful Sunflowers – For Sister
The sunflower represents longevity and admiration, which is ideal for your sister. Meanwhile, the bright yellow petals put a big smile on their face. You can include small gifts such as teddies and chocolates in your flowers delivery in Dubai. It will increase the positive energy on their special days. Aside from the fights, now is the time to show her how much you care. These are the memories you will cherish for the rest of your life.
Iris Extravagant
Iris is a beautiful and sophisticated flower that will captivate your loved one. They represent optimism, faith, bravery, admiration, and wisdom. So you won't be able to find a better bloom than them to express your love for them at the ceremony. Its abundance of beauty entices their hearts and leaves them speechless.
These stunning blossoms have a stunning array of blue and purple colors. So, buy and send flowers from Harmony flowers delivery Dubai with a high-quality bouquet to sweep them off their feet and whisk them away to heaven.
Alstroemeria Exhilarating
The ravishing alstroemeria will undoubtedly put a beaming smile on your loved one's face at the celebration. They are associated with concepts such as love, strength, friendship, devotion, and others. They also frequently represent thought to represent mutual support. This is also known as the romantic blossom, and it can add more affection and sweetness to your relationship.
As a result, choose exquisite Flower Arrangements to adorn special occasions.
Wonderful Mixed Flowers
Give the magnificent mixed flowers bouquet at the celebration to double the charm. Choose a bouquet with unique blooms such as roses, carnations, orchids, and more. Don't forget to get the best one based on your loved one's preferences to completely surprise them at the ceremony. The pleasing visual and revitalizing fragrance warm their hearts even more.
The Endear of Sending Flowers Simply Because
Sending flowers gesture will not only make your loved ones happy, but it will also share all of the gratifying and positive effects flowers have on us.
Make Their Day Better
The power of a flower extends beyond its ability to capture beauty. Their bright colors and sweet aromas help to lift our spirits, relieve stress, and provide a general sense of calm. Different flowers have different effects on people, but they all contribute to a sense of happiness that can last for days.
Tell Them You Miss Them
Sending a "just because" arrangement is a treat for both you and the recipient. It feels good to share and spread love while also receiving genuine expressions of gratitude. When we miss someone, our first instinct is to pick up the phone and call them. Wouldn't it be nice to surprise them with a lovely flower arrangement instead? Lilies have a strong connection to the feeling of missing someone.
Act of Kindness
Flowers, with their vibrant colors and striking beauty, help express the inexpressible and are filled with beautiful symbolism and meaning. There is no special reason to spread joy with a bouquet or arrangement, and it is very simple to share your feelings with others. Browse our selection of just because floral arrangements and have it delivered to that special someone to brighten their day.
Say That You are Sorry
Nobody is perfect, and it can be difficult to always get along with everyone. If you've had an argument or don't agree with someone you care about, why not express your regret with flowers? Of course, a simple "I'm sorry" will suffice, but sending flowers will demonstrate that you care enough to go out of your way to apologize.
Final Thought
Flowers are the only way to express your deepest feelings and emotions for your loved ones. On the other hand, it adds more colors and odors to your party. It will make your loved ones happy because of your creative and meaningful ideas. Finally, you have a clear understanding of selecting the best appropriate one.
flowers delivery Dubai
So, don't put off making your day colorful with magnificent flower collections. Contact Harmony Flowers for flowers delivery Dubai area. Call us now. And if you want to know about the meaning of each flower you can check out Florals, Their Meaning, And Etiquette Tips to know the meaning of certain types of flowers.